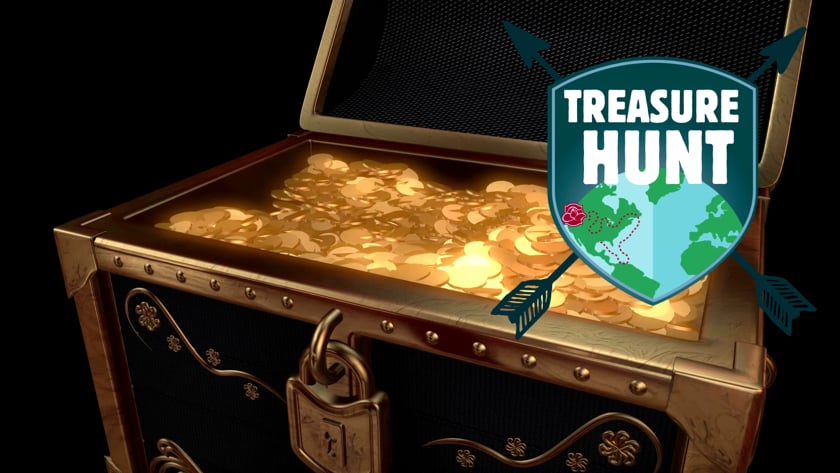 What:

Somewhere on our 168 acre property, a treasure is hidden! If you are the FIRST to find it your reward will be 250 Woodloch Dollars! (have no fear, we will keep it up for those who want to give it a go.  Subsequent winners will receive $50 Woodloch Dollars!)
When:

Now, later, tomorrow…the Treasure Hunt will save your progress.  Your progress will remain in place until we move to a NEW Treasure Hunt.  So you have some time….but don't delay!
How:

Ask a member of our Front Desk Staff for a Treasure Hunt Puzzle. Scanning the QR code on the back of the puzzle will prompt you to create an account where all your progress will be saved throughout the hunt, and the solution to the puzzle will be your first password. Upon entering the password the next clue will be unlocked and play will continue like that in a series of puzzles and hidden locations around the property until you reach the final destination.
Good Luck and Happy Hunting!
***And for our little treasure seekers please ask our Front Desk Staff for our special Kids Club
Treasure Map for ages 10 & Under!!!
(Kids receive a prize- no cash incentive)
SPONSOR
Sponsor is WOODLOCH PINES, INC. with business offices at 731 Welcome Lake Road, Hawley, PA 18428 ("Sponsor" or "Woodloch").
TERM
This contest will not conclude for the foreseeable future. Woodloch has the right to cancel this contest at any time. Information on how to enter and prizes form part of these official rules ("Official Rules"). By submitting an entry, each entrant agrees to the Official Rules and warrants that his or her entry complies with all requirements set out in the Official Rules.
WHO MAY ENTER
Contest is open only to individuals who have reached the age of majority in their jurisdiction of residence at the time of entry. Employees of Woodloch Pines Inc., The Lodge at Woodloch, The Woodloch Market, or their subsidies and affiliates, and their immediate family members (spouse, parent, child, sibling and their respective spouses, regardless of where they live) or persons living in the same households of such employees, whether or not related are not eligible. CONTEST IS VOID WHERE PROHIBITED.
ELIGIBILITY
Each eligible contestant will be required to adequately solve the Ultimate Woodloch Treasure Hunt in person, on Woodloch property.
JUDGING
Contests winner will be chosen solely by a designated Woodloch Pines Resort staff member based on completion of the puzzle.
LIMITATION OF LIABILITY
By entering this Contest, all entrants agree to release, discharge, and hold harmless WOODLOCH PINES, Inc. and its owners, partners, affiliates, subsidiaries, advertising agencies, agents and their employees, officers, directors, and representatives from any claims, losses, and damages arising out of their participation in this Contest or any Contest-related activities and the acceptance and use, misuse, or possession of any prize awarded hereunder.
WOODLOCH PINES, Inc. assumes no responsibility for any error, omission, interruption, deletion, defect, or delay in operation or transmission; communications line failure; theft or destruction of or unauthorized access to Contest entries or entry forms; or alteration of entries or entry forms. WOODLOCH PINES, Inc. is not responsible for any problems with or technical malfunction of any telephone network or lines, computer online systems, servers or providers, computer equipment, software, failure of any e-mail entry to be received on account of technical problems or traffic congestion on the Internet or at any website, human errors of any kind, or any combination thereof, including any injury or damage to entrants' or any other persons' computers related to or resulting from participation, uploading or downloading of any materials related to in this Contest.
In the case of entrants who are Australian or UK residents, the preceding two clauses do not operate in respect of any implied condition or warranty the exclusion of which from these Official Rules would contravene any Australian or UK statute or cause any part of these Official Rules to be void.
CONDITIONS THIS CONTEST IS VOID WHERE PROHIBITED. Entrants agree that this Contest shall be subject to and governed by the laws of the state of Pennsylvania and the forum for any dispute shall be in the state of Pennsylvania, United States of America. To the extent permitted by law, the right to litigate, to seek injunctive relief or to make any other recourse to judicial or any other procedure in case of disputes or claims resulting from or in connection with this Contest are hereby excluded and any entrant expressly waives any and all such rights. Certain restrictions may apply. Entries void if the Sponsor determines the photograph to not be an original, or if the entries are illegible, incomplete, damaged, irregular, altered, counterfeit, produced in error or obtained through fraud or theft.
By entering, entrants also agree (a) to be bound by these Official Rules; (b) that the decisions of the Judges are final and binding with respect to all matters relating to the Contest; and (c) if the entrant wins, that Sponsor may use the winning photographs and each winner's name, photograph, likeness, and/or voice in any publicity or advertising relating to the Contest or future promotions without compensation or approval (except where prohibited by law). All federal, state/provincial/territorial and local taxes, fees and surcharges and taxes (whether foreign or domestic, and including income, sales, and import taxes) on prizes are the sole responsibility of the prize winners. In the event that the selected winner(s) of any prize is/are ineligible, cannot be traced or do not respond within 10 days to a winner notification as required by the "Contest Prizes" Rules above, or refuses the prize, the prize will be forfeited and Sponsor, in its sole discretion, may choose whether to award the prize to another entrant.
The Sponsor reserves the right to verify the validity and originality of any entry and/or entrant (including an entrant's identity and address) and to disqualify any entrant who submits an entry that is not in accordance with these Official Rules or who tampers with the entry process. Failure by the Sponsor to enforce any of its rights at any stage does not constitute a waiver of those rights.
RIGHT TO CANCEL OR SUSPEND CONTEST
If for any reason the contest is not capable of running as planned, due to infection by computer virus, bugs, worms, trojan horses, denial of service attacks, tampering, unauthorized intervention, fraud, technical failures, or any other causes beyond the control of WOODLOCH PINES, Inc. that corrupt or affect the administration, security, fairness, integrity, or proper conduct of this Contest, WOODLOCH PINES, Inc. reserves the right, at its sole discretion, to disqualify any individual(s) who tamper with the entry process, and/or to cancel, terminate, modify, or suspend the Contest. If Sponsor elects to cancel or terminate the Contest, Sponsor will not retain any rights in the submitted photographs, and will return the fees submitted with each Entry.